Congratulations to the July 2023 Business of the Month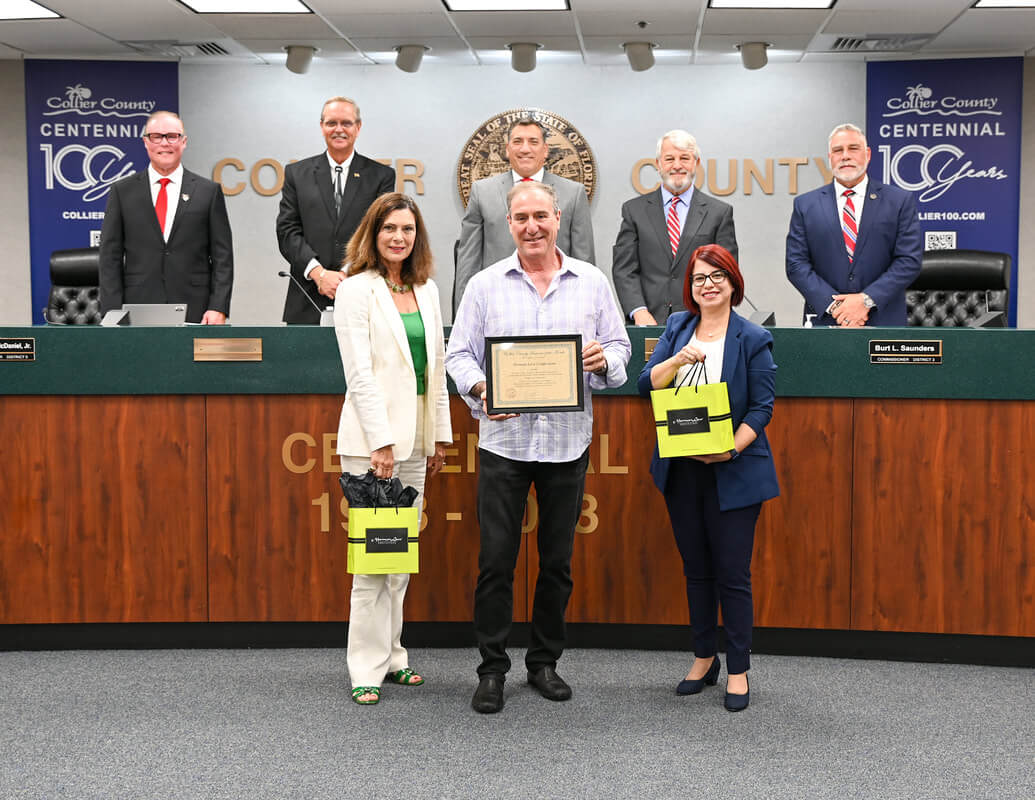 Collier County Government and Greater Naples Chamber partnered together and chose Norman Love Confections as the July 2023 Business of the Month. An award was presented to Norman Love Confections at the Collier County Board of County Commissioners meeting on July 11, 2023.
Each month, the award is presented to an organization that has enhanced the community through financial, volunteer, and active involvement in organizations and programs that assist in creating a better quality of life for all citizens in Collier County. The company chosen will also be featured at the following Wake Up Naples/Chamber Conversation event.
The Collier County Board of County Commissioners and Bethany Sawyer, VP of membership and investors at Greater Naples Chamber, presented Norman Love, owner, and Yosie Crespo, director of sales, with a commemorative plaque at the July 2023 County Commission meeting.
Norman Love Confections is a renowned chocolatier that has been delighting chocolate lovers with their exquisite creations since 2001. Based in Fort Myers, Florida, and with stores in Naples, Fort Myers, and Sarasota, the company was founded by Norman Love, a master pastry chef who has worked in some of the most prestigious hotels and restaurants around the world. ​
Norman Love Confections offers a wide range of artisanal chocolates, truffles, artisan bars, gift boxes, and seasonal specialties that are all made using the finest ingredients. Their chocolates are handcrafted by a team of skilled artisans who use traditional techniques combined with innovative flavor combinations to create unique and indulgent treats. In addition to their retail products, Norman Love Confections also offers custom chocolates for corporate gifting and events. They can create personalized chocolates and gift boxes that can be customized with your company logo or message, making them the perfect gift for clients, colleagues, or special events. The company has won numerous awards for its chocolates, including multiple International Chocolate Awards, making them one of the most highly-regarded chocolatiers in the world. They also have a strong commitment to sustainability, using eco-friendly packaging and supporting sustainable cocoa farming practices. Overall, Norman Love Confections is a world-class chocolatier that offers an unparalleled chocolate experience. With their commitment to quality and innovation, they are a leader in the confectionery industry and a beloved local business.
Norman Love Confections is a local business that truly embodies the spirit of community support. As a world-renowned chocolatier, they have not only established a reputation for excellence in the confectionery industry, but also for their unwavering commitment to supporting the local community. From sponsoring local events to donating to charitable causes, Norman Love Confections has always been at the forefront of giving back to the community. They have supported various non-profit organizations and charities, including Golisano Children's Hospital and the Harry Chapin Food Bank, among others. In addition, they have also supported local schools and educational initiatives, helping to provide resources and opportunities for local students. One of the most notable ways that Norman Love Confections supports the local community is through its internship program. This program offers high school and college students the opportunity to gain hands-on experience in a professional environment, helping to prepare them for their future careers. This program has been instrumental in helping to build the next generation of skilled professionals in the community. Overall, Norman Love Confections is a business that truly embodies the spirit of community support. Their commitment to giving back to the community through various initiatives and programs is truly admirable and makes them a worthy contender for Business of the Month. They are not just world-class chocolatiers, but also vital members of the local community.
Norman Love Confections will be acknowledged at the next Wake Up Naples.
Register for Wake Up Naples